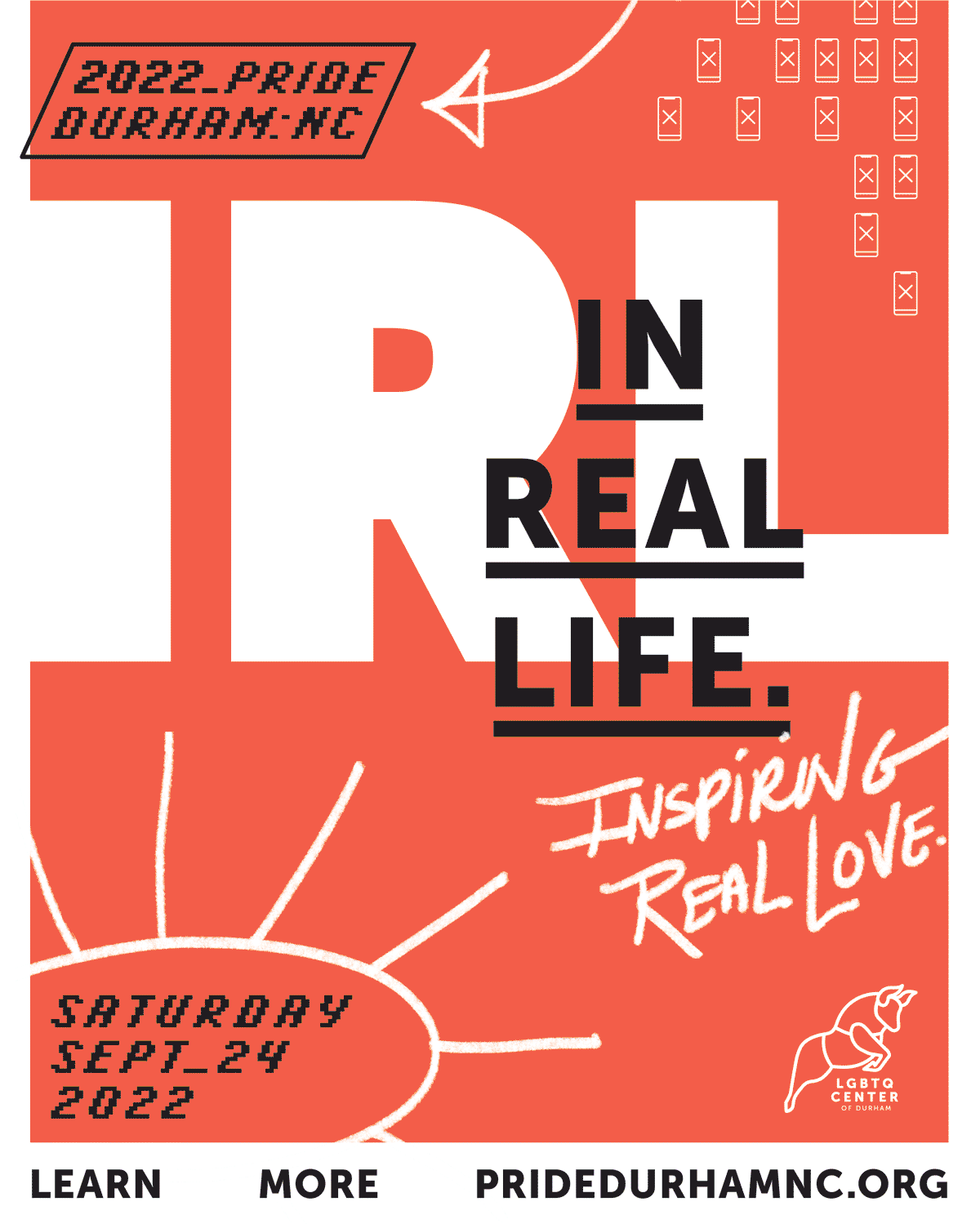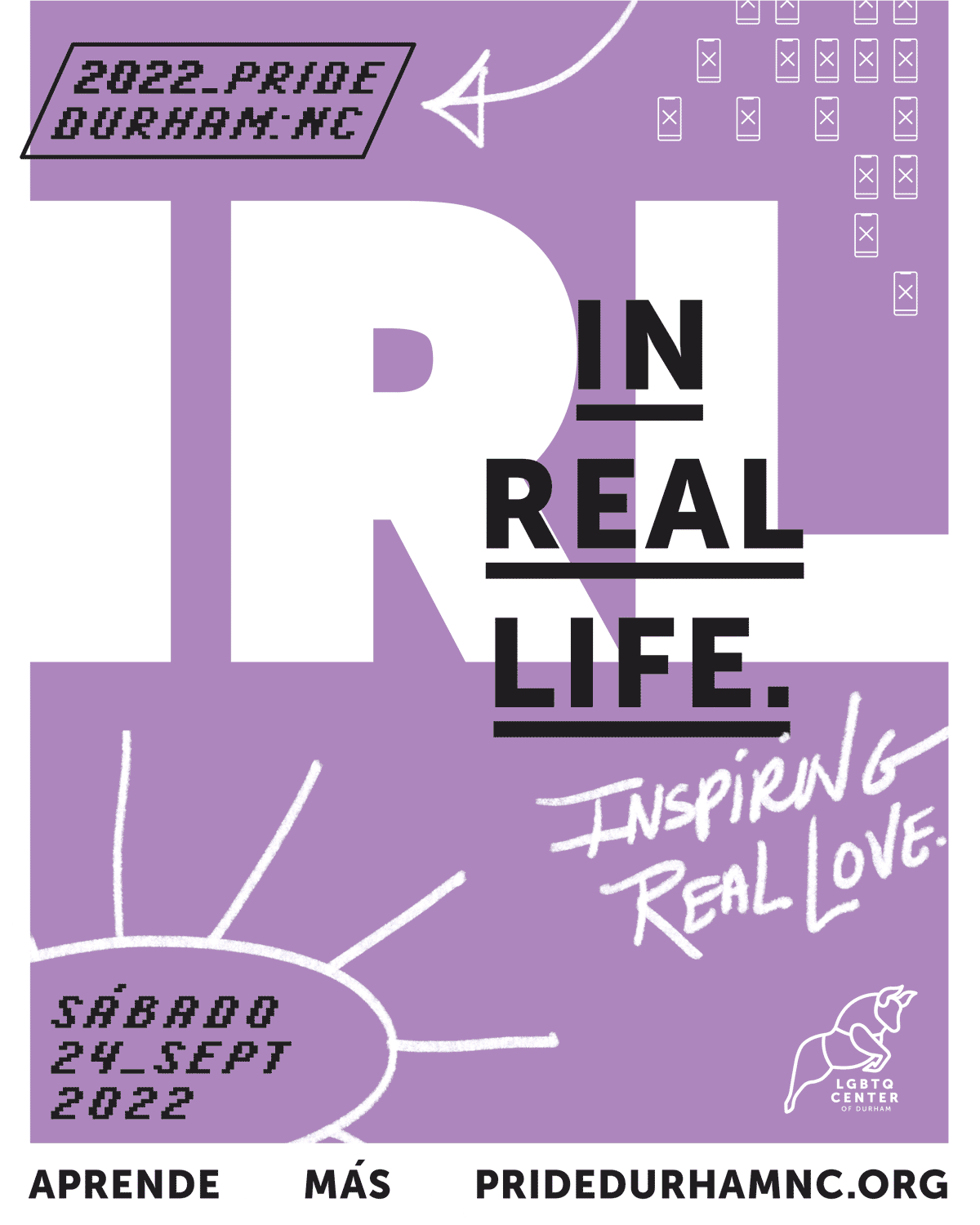 PRIDE: DURHAM, NC 2022
SEPTEMBER 24, 2022
This year's theme for Pride is "IRL!" We will host all of our events on Saturday, September 24, 2022 IRL: IN REAL LIFE -- that means we will be in-person, no virtual options this time around. We also hope that our time together will encourage the act of IRL: INSPIRING REAL LOVE. As cheesy as it may sound, it's our desire that you come to Pride this year and leave inspired by the abundance of love made real -- that desire is motivating us, and we hope it motivates you!
Our grand marshal for the parade and festival is Durham's own Kimora Brooks. For the concert, we will feature Madame Gandhi, Zebra Katz, and Imani Pressley as well as local drag performers: Stormie Daie, Dustin Reams, and Teagress. Additionally, DJ Wicked will be spinning at the concert and the party at the Fruit with other area DJs: Femi The Femme, DJ AYO VIP, and DJ Gay Agenda. And last but not least, Gemynii will hold it down at the inaugural Jammy Jam party at Suite Four.
Registration for marching in the parade, exhibiting at the festival, and volunteering throughout the day has officially closed! If you have registered, stay tuned for details -- someone from our committee will be in touch via email and follow up with you at their earliest convenience.
OFFICIAL EVENT TIMES & LOCATIONS
Parade | 1030AM - 1230PM | Duke East Campus
Festival | 12PM - 4PM | Duke East Campus
Concert | 5PM - 8PM | Durham Central Park
Party | 8PM - 2AM | Suite Four
Party | 10PM - 2AM | The Fruit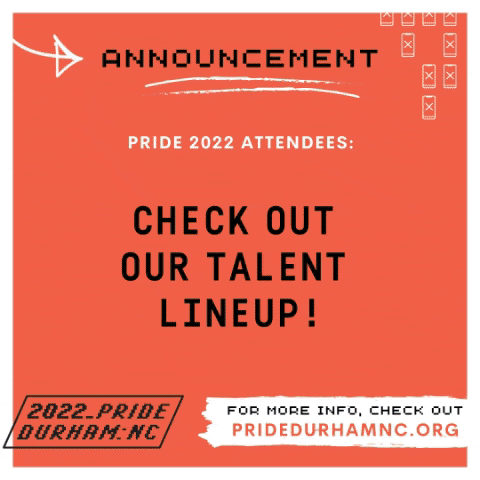 EVENT CONSIDERATIONS & INSTRUCTIONS
FYI: PARADE @ DUKE EAST CAMPUS | The event so many have been waiting for will finally be here again! Give yourself extra time to park and travel to your desired location, depending on where you want to be along the route and how quickly you can move. There will be multiple lots on and near East Campus, including Smith Warehouse, Hillsborough Road, Asbury UMC, and 705 Broad St. Also, you can request golf carts to support your safe, accessible transit to-and-fro as is needed -- activate a Duke parking attendant or a volunteer in a pink shirt, and help will be on its way.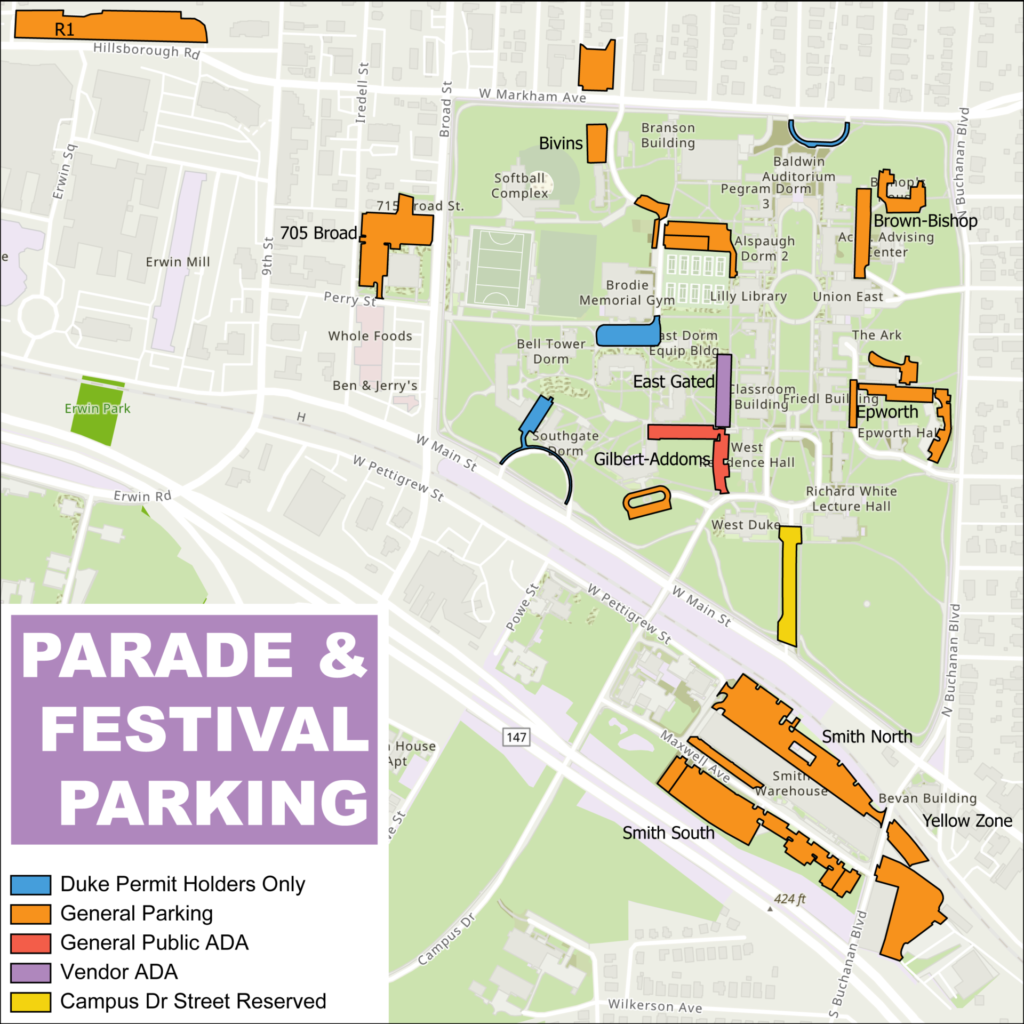 For groups including young children or someone in a wheelchair, we suggest joining the parade watch party at Branches Community School -- they'll have family-friendly music, food trucks, a low sensory space, and other accessibility accommodations. ARTPOST, located within the parade route, will also serve as a primary location for low sensory and creative activities during the day -- visit them at your convenience! And don't forget to bring your flags, banners, and best Pride decor!
FYI: FESTIVAL @ DUKE EAST CAMPUS | 
With more than 100 vendors on site, including food trucks, STI testing, COVID-19 and monkeypox vaccines 
(CLICK HERE TO REGISTER!)
, a pet area, and a youth zone, there will be plenty to do! Please note: the parking plans for the festival are the same as the plans for the parade. Visit the Center's information booth to access a map of the festival layout, make a donation, and buy our merchandise, including custom "IRL" themed tshirts, crop tops, and tanks. Also, there will be a nearby wellness tent for anyone who needs to sit, hydrate, and/or receive medical care as well as the H2O 2 Go station if you need a refill -- carry your own water bottles as you're able!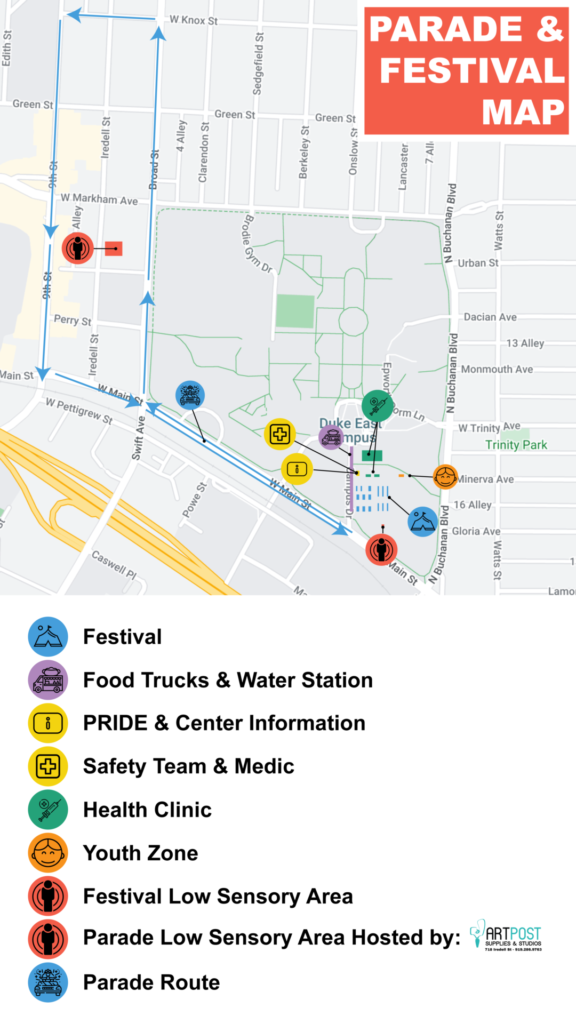 FYI: CONCERT @ DURHAM CENTRAL PARK | Again, we recommend giving yourself extra time if you'll need to park nearby. There are lots south and west of the DCP pavilion available as well as various decks and general street parking downtown. While we won't have golf carts available, we will have dedicated space on the DCP lawn for those who need mobility accommodations upon arrival. Generally though, you should bring your own chairs, blankets, and pillows for a more comfortable experience. Feel free to bring your own food and/or patronize our local vendors on site as you're able, and if you need help accessing food, visit the info desk for a voucher -- we won't have anyone going hungry if we can help it!
There are also several community members who are coordinating events in conjunction with Pride: Durham, NC 2022. See the list, and feel free to participate as you're able. If there's an event you're planning that inspires real love and uplifts our community, please email us the details, and we'll do our best to add it to the list.
Thursday 9/22
Queer Book Bingo,
5PM - 9PM @ Letters Bookshop
Friday 9/23
House of Coxx Pride Show and Family Reunion, 10PM @

The Pinhook
Lastly, please don't be shy -- if you have any questions or concerns about an accommodation that will help you participate in-person more fully, contact us via email: pride@lgbtqcenterofdurham.org
THANK YOU TO OUR 2022 SPONSORS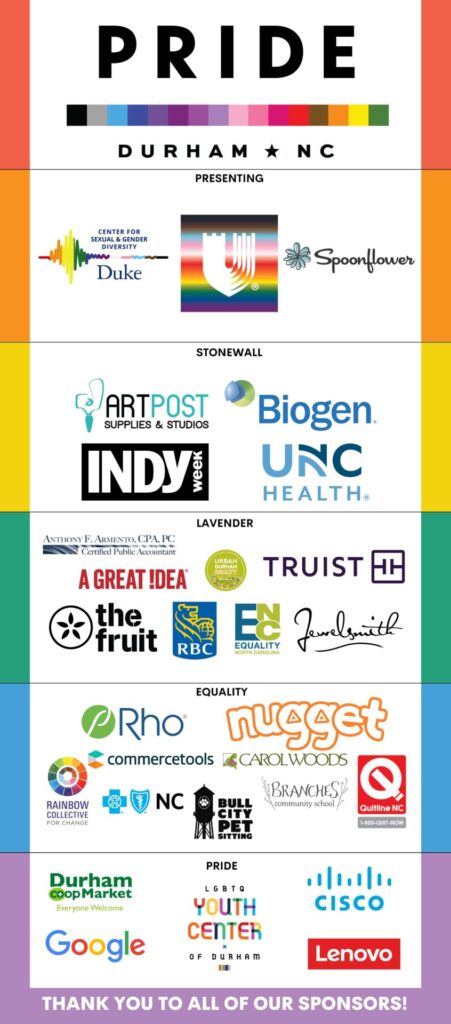 Creating and Facilitating Community
Pride: Durham, NC serves as the annual celebration of community, family, pride, and activism in Durham and across the state. Durham being the home to progressive politics and true inclusion is the perfect location to celebrate your identities. Located in the state famous for "THE Bathroom Bill," HB2, Durham is also where activists have shaped history through radical acts and intelligent collaboration between key community members.
Pride: Durham, NC brings love and activism back to the forefront of Pride as a way to drive stronger connections and further growth and success in a tumultuous political climate. All people with love in their hearts and progress fueling them are welcome at Pride: Durham, NC.
Our History
With more community input and intergenerational guidance, Pride: Durham, NC is the location for members of the LGBTQ community in Durham and beyond to celebrate and rejuvenate their spirits. Please read more about the history of NC Pride (from the NC Pride Archives) and Pride: Durham, NC.
"Somebody, your father or mine, should have told us that not many people have ever died of love. But multitudes have perished, and are perishing every hour—and in the oddest places!—for the lack of it."
James Baldwin